Difference between revisions of "Main Page"
From Chanticleer Society
Line 11:
Line 11:
 
 
 

= Welcome to the Chanticleer Society =

 

= Welcome to the Chanticleer Society =

 
+
 
 
−

You have encountered the "reboot" of the Chanticleer Society website. Originally, this site was a discussion forum for bartenders and cocktail enthusiasts around the world. Not only did the underlying software for the site begin to experience problems, but other social networking methods began to become the favored venue for such discussions. The final blow, was that the hosting service being used closed up, and the site was unable to be moved to a new host.

+

have of , and . and the be .

 
 
−

In this reboot, we have decided to turn ourselves into a "Wiki" which is specifically focused on servicing both our members, as well as any other interested party.

 
 
 
 

<strong>MediaWiki has been installed.</strong>

 

<strong>MediaWiki has been installed.</strong>
---
Revision as of 17:07, 18 January 2019
"Ad Galli Caudam Propagandam"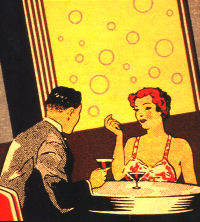 For the good of the cocktail
"The Sunday Mercury says that if you are at a hotel, and wish to call for a beverage compounded of brandy, sugar, absynthe, bitters and ice, called by the vulgar a cocktail, ask for une queue de chanticleer-it will be an evidence at once of your knowledge of French and of Chesterfield."
- The New Orleans Daily Picayune, February 2, 1843, p.2
[Transcribed by David Wondrich, October 2008]
Welcome to the Chanticleer Society
A Worldwide Organization of Cocktail Enthusiasts
Over a fairly short time, cocktails have evolved from simply being a mixed drink of questionable quality, into something that can often be considered culinary product that is produced with care and craftsmanship. There is still however a lot of knowledge and information regarding the cocktail which can be considered questionable at best.

MediaWiki has been installed.
Consult the User's Guide for information on using the wiki software.
Getting started